I can't keep trail riding bareback all the time, and I need to find a fitting saddle for the upcoming trail competitions I'm entering. I can't buy another saddle until I sell this one! In a few days, I'm going to bite the bullet, and list it on ebay. If somebody wants this saddle before then, they can have it for $725!

I custom ordered this saddle some months ago for my hard to fit paint mare. Apparently, she's REALLY hard to fit. I'm looking to try treeless next, but first I gotta sell this saddle. I paid over $1,100 for it, but I'm asking $800.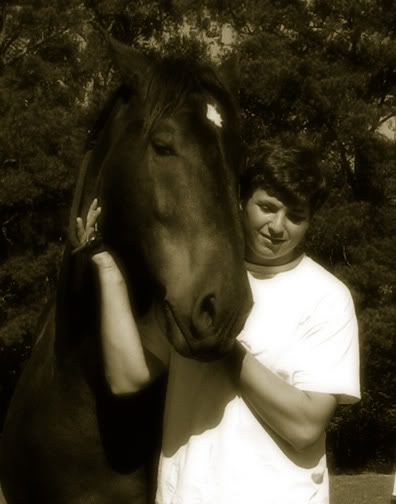 It's a 17" seat, wide tree, quarter horse bars saddle. Medium Oil Finish. Suede seat. I've just about oiled out the new saddle squeak. I only use Leather CPR to oil the saddle, and it's been coming along nicely. Stored indoors, in a smoke free home. I think I rode in it a MAX of 30 times, and I'm being very generous, because I've probably ridden in it less, but I didn't count every time I saddled up. (I tend to ride bareback anyway. Some of ya'll know my nickname "Dirty Butt Girl"!)
Here's a link to the saddle maker's website where I ordered the saddle from.
http://www.dixielandgaitedsaddles.com/SPECIALS.html
They make WONDERFUL tack and saddles. Everybody I've ever talked to that's ordered a saddle from them LOVED their saddles. I would have a hard to fit mare.
This is a hand crafted, Amish made saddle. The saddle maker specializes in gaited horse saddles. I loooooved their work, so I custom ordered a saddle for my mare. Goofy thing would have a funky 4 year old growth spurt!
Email me at
theonesugarlady@bellsouth.net
for any questions or for additional pictures. I'll be glad to help.